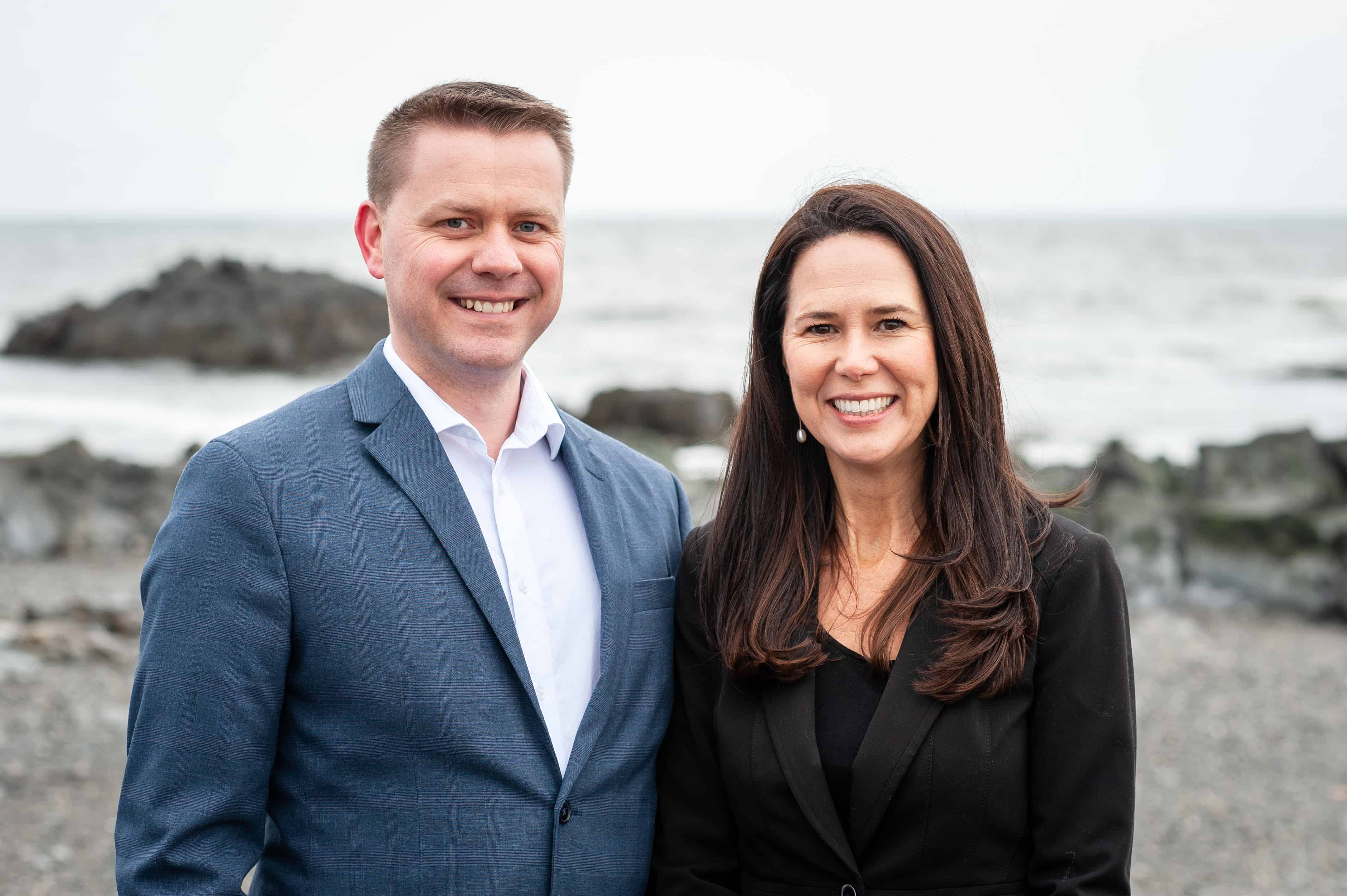 Gwen + Nate • Brokers • Licensed in ME + NH
Introducing The Genest Mayo Team: Your Trusted Partners in Real Estate
Gwen Cell: 207-651-2646 | Nate Cell: 207-651-4260
The Genest Mayo Team are a dynamic and dedicated group of real estate professionals. We are committed to providing exceptional service and guidance to our clients. With a combined experience of almost two decades in the industry, we bring a wealth of knowledge, expertise, and a passion for real estate to every [...]
Introducing The Genest Mayo Team: Your Trusted Partners in Real Estate
Gwen Cell: 207-651-2646 | Nate Cell: 207-651-4260
The Genest Mayo Team are a dynamic and dedicated group of real estate professionals. We are committed to providing exceptional service and guidance to our clients. With a combined experience of almost two decades in the industry, we bring a wealth of knowledge, expertise, and a passion for real estate to every transaction.
Our team understands that buying or selling a property is a major life decision, and we are here to guide you every step of the way. Whether you're a first-time homebuyer or an experienced investor, we are equipped to handle all your real estate needs with professionalism, integrity, and a focus on achieving your goals.
What sets us apart is our client-centric approach. We prioritize building strong relationships with our clients based on trust, open communication, and personalized attention. We take the time to listen to your unique needs, preferences, and concerns, ensuring that we understand your vision for your real estate journey.
Backed by the resources and expertise of Portside Real Estate Group, we offer a comprehensive range of services, including property search and analysis, pricing guidance, marketing strategies, negotiation support, and smooth transaction management. Our commitment is to deliver exceptional results and exceed your expectations.
In addition to our deep knowledge of the local market, we stay up-to-date with the latest industry trends and technologies, enabling us to provide you with the most accurate information and effective strategies. Whether you're looking to buy your dream home or sell your property at the best possible price, we have the expertise to guide you through the process with confidence and success in any state or country. Just ask us how?
As the Genest Mayo Team, we pride ourselves on our professionalism, attention to detail, and unwavering commitment to our clients. We are passionate about real estate and dedicated to helping you achieve your real estate goals. Trust us to be your reliable partners in the ever-changing world of real estate. Contact us today to begin your journey.
Office Location
149 Port Road
Kennebunk, ME 04043
Specifications
Languages:
Specialties:
Service Area:
Genest + Mayo's Testimonials
I have had the pleasure of working with Gwen Genest for the past 3 years or so.  Gwen has sold homes to most of my new provider hires here at SMHC.  I had my choice of realtors to use when I took over my current position but I had to choose Gwen.  Gwen's personality is so warm – it was so important for me to work with somebody who would take great care of my providers – I didn't want to worry that this was not going to happen.  I am 1000% glad that I chose Gwen and I would never look back nor [...]
K. Johnson
The idea of buying my first home was perhaps one of the most stressful experiences I could ever imagine. Luckily, I had Gwen in my corner! She made the process as easy and fun as possible. She made herself available on short notice for house showings and was always quick to respond to all my questions. Best of all, she really put me in the driver's seat and never put the pressure on me to buy a house I didn't absolutely love. When we finally found 'the one' she jumped on it and got to work [...]
L. Carpenter, Kennebunk, Buyer
Nate was great throughout the entire process. He explained things to us in a clear and concise way. He was thorough and gave us great advice and tips for selling our home. I would definitely recommend him to anyone looking to buy or sell a home!
Matt + Samantha L.
My husband and I have worked with Nate Mayo for a few years now.  He has helped us purchase land and a home.  Most recently he has helped us sell land and kept us in the loop throughout the process.  We never even had to ask for a single update!  Nate is experienced, kind, and patient--he listens to you and then makes thoughtful comments and suggestions based on his expertise as a realtor.  Nate is our go-to person the next time we need to buy or sell real estate.
John + Meg
Thank you again for the diligent effort you showed in being our broker. You were trustworthy, efficient, and responsive. We could not have asked for anything more!
Kathy + Ned N.
Nate was very professional and very personable. He made us feel like we were his only clients. He was very responsive to all our questions and was very patient with us. We had many questions since this was our first time to sell a home. He was recommended to us by a friend and we would certainly recommend him to others.
Georgia B.
This was not our first house purchase, but it was our first in New England. Gwen was very knowledgeable and pointed out features that we were unfamiliar to us like, oil tanks, boilers, wells and sump pumps when we were touring homes.  She was also very patient and drove from Freeport to Kennebunk looking at many houses (sometimes the same house twice) with us all while maintaining a super positive attitude!  We were only in town for one week house hunting and were so lucky to have found one we [...]
L. Pratt
When picking a real estate agent, it's fairly easy to find a highly rated agent and/or agency that is professional, courteous, and can get the job done. Gwen met all of those qualities, and then some.  Not only was she kind and knowledgeable and highly responsive, she also added the personal touch to real estate that I felt I was missing with other agents I have had previously. From our first phone call to our first meeting I felt like I was meeting an old friend, and that she would be [...]
J. Faraci
Nate and Gwen make for an honest, committed, and highly communicative team. They asked the right questions of us and guided us as first time home buyers through the myriad steps of finding a home that met our needs and our wants, ensuring that there were few if any gaps that separated the two. They earned our trust from the get go and we always felt listened to. Add to which, since we moved to Maine from out of state and couldn't be physically present for every home viewing, Nate and Gwen [...]
J & D Wolf
Nate was excellent from the start. There were no missteps through the sale of our home. The sale price was right on target. We received multiple offers in the short amount of time it was on the market. Nate helped us choose the best offer and the deal went through without a hitch. He has also been very patient with us in our search for a new home. After putting in multiple offers together for us for several properties we are under contract to purchase our new home. Nate led us through the [...]
Dan + Patti B., Wells, ME
Contact
Hi there! How can we help you?
Contact us using the form below or give us a call.
Hi there! How can we help you?
Contact us using the form below or give us a call.